At Together at the Table 2015, we highlighted a few of the many individuals working to end hunger in their communities. Learn more about each of these "Hunger Heroes" and their work in our latest blog series, and get ready to be inspired! This week, read about how a doctor at a children's hospital is helping raise awareness around food insecurity and the ways medical professionals can get involved in the fight to end hunger.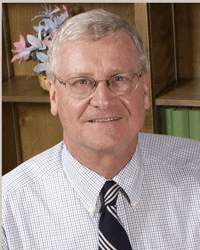 Over a career that has spanned more than 30 years, Dr. Patrick Casey of Arkansas Children's Hospital (ACH) has seenthousands of children, many of whom were underdeveloped. Some of these cases are linked to medical issues such as cerebral palsy, which causes difficulties with chewing and swallowing, leading to undernourishment—but for children who don't have an underlying medical issue, these problems often relate to the quality of their diet.
Dr. Casey retired from seeing patients this summer but continues to conduct research at ACH. He first began studying food insecurity in the 1990s, as part of a research project funded by the U.S. Department of Agriculture. "It was my first time to become aware of this notion of food insecurity," Dr. Casey said.  Since that initial project, Dr. Casey has continued to research the impacts of food insecurity. Since the mid-1990s, Dr. Casey and ACH have provided extensive data on children's health and well-being in Arkansas, collected through patient surveys and interviews. Currently, Dr. Casey is collaborating with Children's HealthWatch, an organization committed to improving children's health throughout the country.
"Through the years, the prevalence of food insecurity [in Arkansas] had run relatively stable, around 10 to 11 percent of the families that we interviewed," Dr. Casey said. "But in 2008, it doubled up to more than 20 percent, and that really caught my attention. Frankly, it hasn't dropped since then. And that motivated me to say—maybe at our hospitals, we should be doing something to try to influence the issue of hunger."
A recent report published by Children's HealthWatch highlights the high rates of food insecurity in Arkansas. As recently as 2013, Arkansas had the second-highest overall population rate of food insecurity in the United States—19.7 percent or 570,000. The rate of food insecurity among households with children is substantially higher at 27.7 percent, affecting approximately 196,950 children.
Food insecurity can harm multiple aspects of a child's well-being, including growth, development, behavior, academic performance and overall physical health. The first years of a child's life are especially critical, because this is a time of significant brain development. During this period, deprivation of food, for any length of time, can have harmful consequences. "We believe there's convincing evidence that food insecurity is associated with a broad range of negative affects," Dr. Casey said. "It's worthy of doctors paying attention to it."
Beginning this summer, Arkansas Children's Hospital started to screen for food insecurity at its primary care clinic. "About 20 percent of the families that come into the clinic are reporting problems with food or access to food," Dr. Casey said. To counteract this, the hospital has implemented action steps to help children and families.
Dr. Casey began working alongside hospital leadership and the USDA to coordinate serving free meals to children during hospital and clinic visits throughout the year. Thus far, ACH has provided more than 40,000 free lunches to its patients.
This is a relatively new concept, and ACH is the first hospital in the nation to serve free meals year-round in partnership with the USDA, paving the way for other hospitals to do the same. The USDA hopes to implement similar programs at hospitals nationwide, and doctors have reached out to ACH and Dr. Casey to learn how to replicate the program at their hospitals.
Along with meal service, Arkansas Children's Hospital combats food insecurity in other ways. It has implemented Share Our Strength's Cooking Matters, which provides education on preparing healthy, affordable meals. These courses are offered to ACH patients and employees. Patients' families can also get assistance applying for federal nutrition programs. And, working alongside the area health department, ACH now has a Women, Infants and Children's (WIC) office on its campus, allowing families the convenience to apply for or renew benefits while they are at the hospital.
Dr. Casey said that the hospital has wanted to offer a food pantry but is limited due to space. Because of this, the hospital has partnered with a nearby food pantry to provide food to its patients' families. It is also working with a local church to develop a mobile food pantry that it hopes to launch later this year. Additionally, ACH now has a community garden on its grounds, maintained by AmeriCorps members, and an ACH faculty member and research nutritionist will help develop education opportunities around the garden.
"I think [these programs] are a reflection of what we, at a hospital, can do to address food security," Dr. Casey said.
Dr. Casey and Arkansas Children's Hospital illustrate the impact the medical community can have on food insecurity. Through their research and programs, they are highlighting the issue of childhood hunger in our country while simultaneously combating it, ensuring children are healthy and nutritiously fed. We're inspired by their work and hope other hospitals and doctors take similar steps to fight childhood hunger in their communities.
Post by: Ashley Yeaman, Social Media & Communications Specialist, Texas Hunger Initiative