How can Summer Meals sites keep kids engaged and participation numbers up throughout the summer months? Our latest blog series highlights unique activities that can be replicated at your Summer Meals site! This week, we feature a unique way a site in the Panhandle is engaging the community around Summer Meals.
______________________________________________________________________________________________________
Something exciting is happening in Canyon, Texas, this summer. The Texas Hunger Initiative – Amarillo Regional Office (THI) and the High Plains Food Bank (HPFB) are partnering for Adopt-a-Week, an initiative that is bringing volunteers and activities to a new Summer Meals site at Conner Park in Canyon. Local organizations—from the police department to Master Gardeners— are each adopting one week of the Summer Meals program and will come to the meal site to offer 30-minute activities for kids. The goals are increasing participation and getting the whole community involved with the program.
As is the case in many communities, hunger has been a hidden, and often unrecognized, problem in Canyon. So, when they decided to bring the Summer Meals program to the community, THI and the HPFB knew that they would have to be creative with how it was implemented if it was going to be successful.
"We had to come about Summer Meals in a different way," Kaitlin Mosley, the child hunger outreach specialist at the THI – Amarillo Regional Office, said. "[We] focus on the community instead of hunger. We had to frame [Summer Meals] in a different way, which is why we had all the community organizations come out. [This way] it's not just about feeding the kids, but about community [involvement]."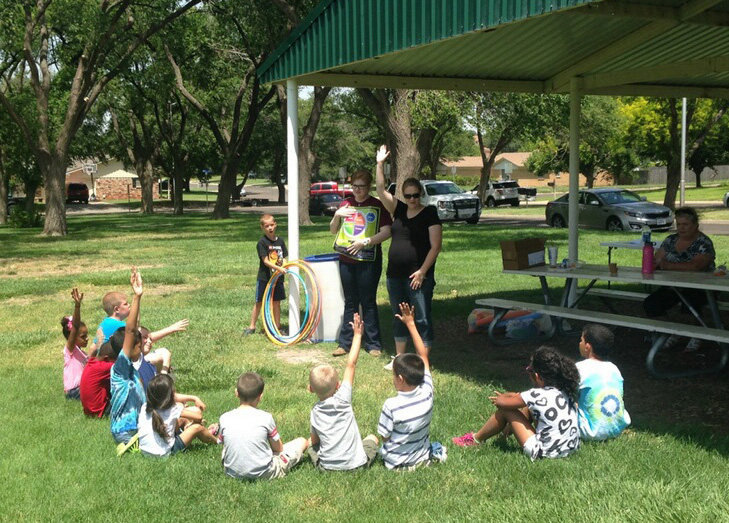 The first week of the program was adopted by the fire and police department. The police department brought one of its Tahoes, fully decked out with police equipment, for the kids to explore (pictured in the cover photo above). They were allowed to push all the buttons and investigate every part of the vehicle.
"I think [the police] are just committed to their community and want to see the kids," Mosley said. "They stayed for an hour and a half and played football and Frisbee with the kids. They just really wanted to be there. It was really fun for the kids and ended up being a great way help them get accustomed to the police and not be afraid of law enforcement."
During that first week, participation exceeded expectations. On average 30 to 50 kids attended the first two days, and the Adopt-a-Week program is a big reason why.
This idea has already proven to be a great way to spark community interest in Summer Meals in a very practical way.
"I really have a passion for educating children and giving them gardening experience," Mary Stevens, a Master Gardener said. "I see it as a way for them to have a release of some of their emotions . . . the gardening experience itself is just so self-rewarding." Adopt-a-Week connected groups that may want to serve but can't host a site or provide volunteers for an entire summer, like Master Gardeners, to the Summer Meals program.
Creative ideas like Adopt-a-week can make a big difference in a Summer Meals program, both in participation and quality of experience. And it's an idea that can be implemented in any area or community! If you'd like to learn more about how Canyon's Adopt-a-Week model could work for your Summer Meals program, email Kaitlin_Mosley@baylor.edu. Or if you'd like to adopt a week of Summer Meals in your area, contact Grace_Norman@baylor.edu for information about a program in your community!
Post by: Madyson Russell, No Kid Hungry Communications Youth Ambassador, Texas Hunger Initiative
Photos by: Kaitlin Mosley, Child Hunger Outreach Specialist, Texas Hunger Initiative – Amarillo Regional Office