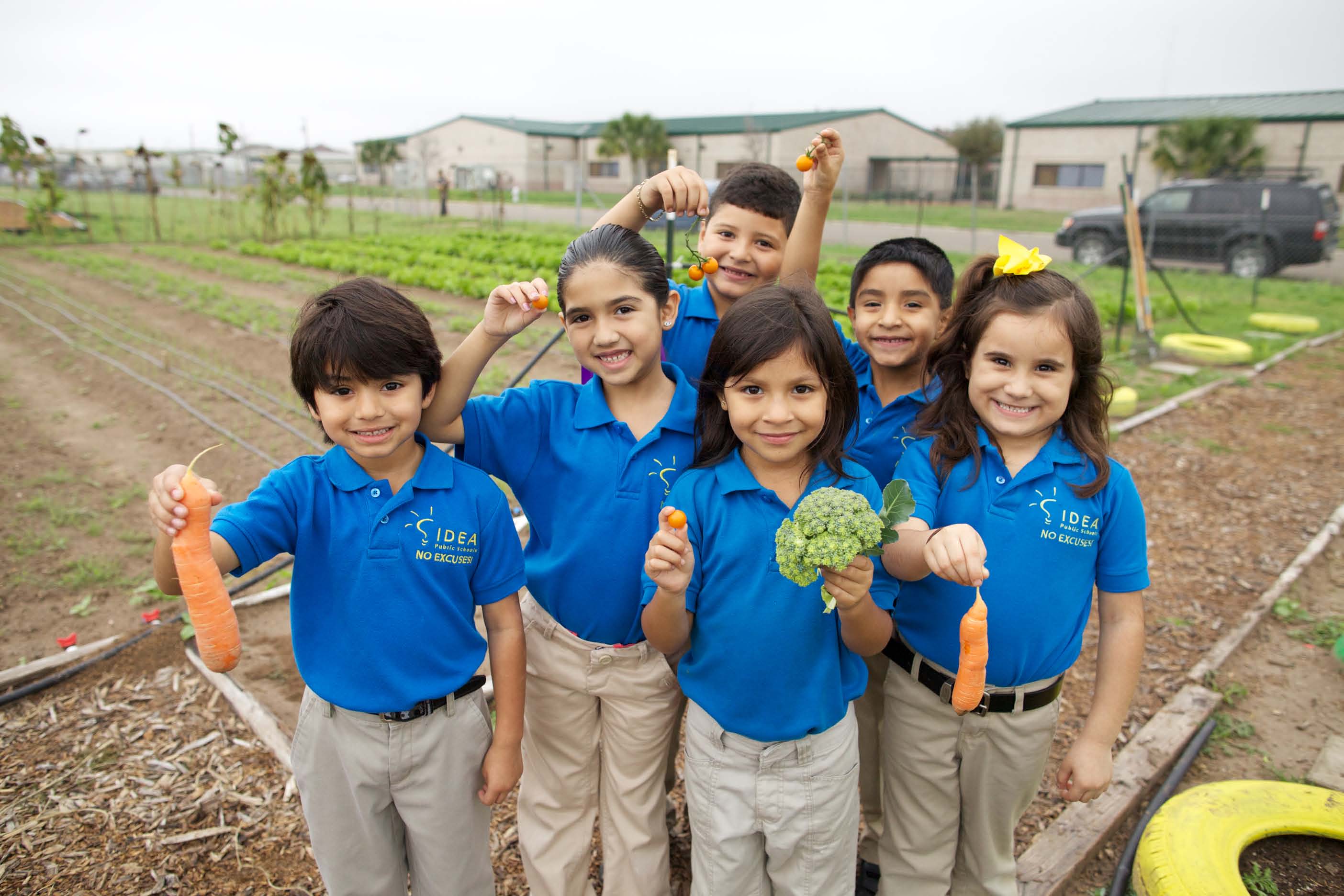 How much more "farm-to-school" can you get than having a farm at your school, right on campus? IDEA Public Schools in the Rio Grande Valley have three campus farms that are producing fresh food that goes directly into the cafeteria.
The farms also provide a chance for students to learn firsthand about agricultural production and healthy living through classes, afterschool garden clubs and summer camps.
The IDEA farm initiative began at the IDEA campus in Donna, Texas, in 2006. Interest and student involvement grew, and in 2008 the IDEA farm program was integrated into the district and expanded out to other campuses. Today, there are farms on IDEA campuses in Donna, Edinburg and Brownsville.
Justin Tuley, farm program developer for IDEA Public Schools in the Valley, oversees all three campus farms. Tuley began working at IDEA in 2011 as a production farmer, with the goal of proving the farms could produce a significant amount of food for the cafeterias. They surpassed expectations that season, growing peppers, carrots, broccoli, spring lettuce and more.
"The first year when I started we produced 1,100 pounds [from the three farms]. The second was 1,500 pounds, and this past year we produced 4,600 pounds," Tuley said. "This next year we're going to keep ramping it up, making [the program] more efficient and showing that it can sustain itself."
Tuley works with the schools' food service staff to plan out menus and determine what to grow. This year, the farms are growing broccoli, carrots, cucumbers, cauliflower, kale, lettuce, onions, spinach, tomatoes and zucchini for the cafeteria.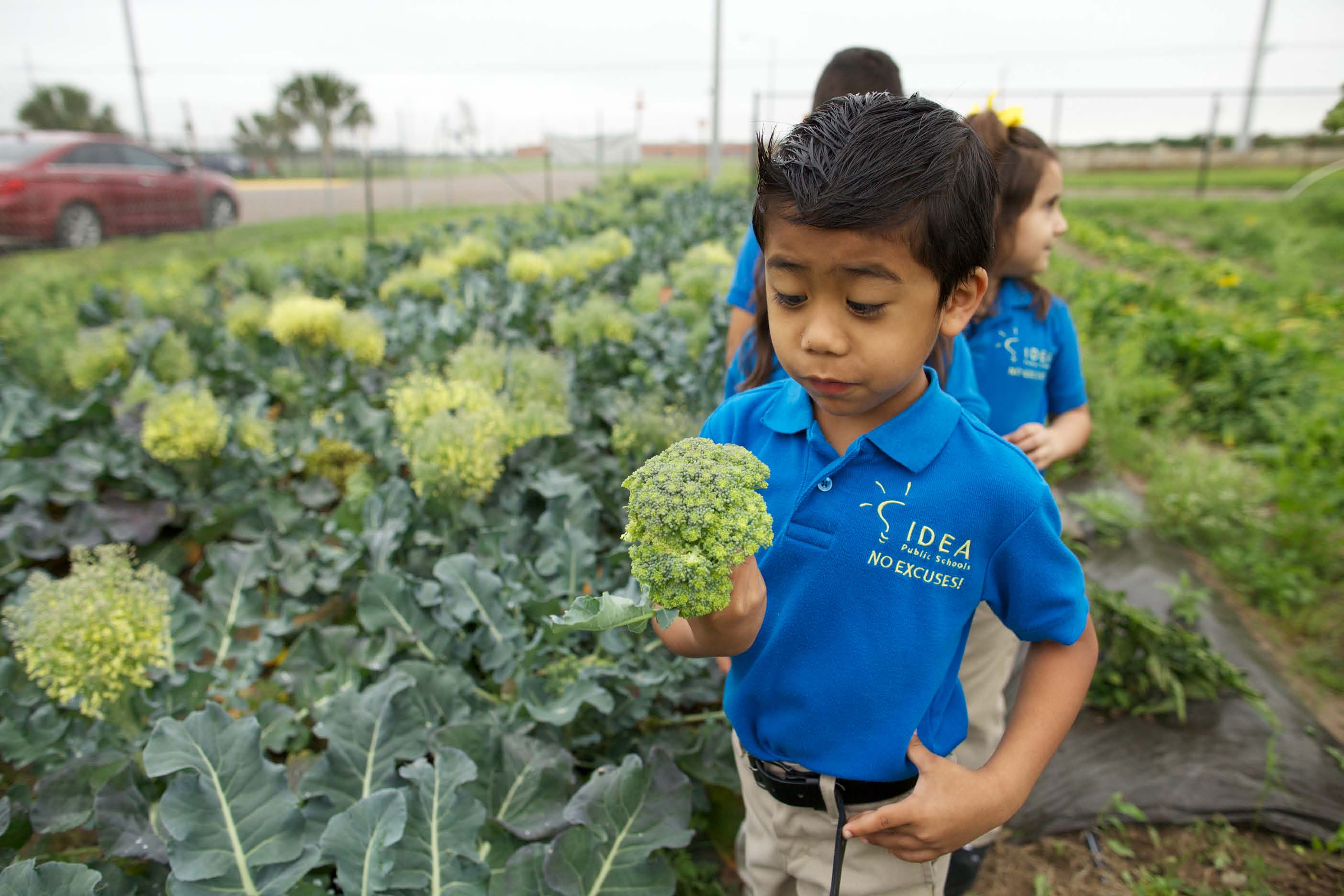 After harvesting, the produce goes through a rigorous washing process. It is then weighed and taken directly to the cafeteria, where the cafeteria manager signs off on it and invoices it. It's then washed again and prepared in recipes. "As soon as I cut it, within two or three days, it's been eaten," Tuley said. Now that's fresh.
Tuley works closely with Maria Huerta, nutrition manager for IDEA Public Schools in Texas, to ready the school menus. Huerta creates the menus, ensuring that all federal standards for school meals are met. She then collaborates with Tuley to see what produce the school farms can provide. "He'll notice things on the menu, like the kale salad or the roasted carrots, and he'll say what he can get for us," Huerta said.
After the menu is planned, Tuley meets with the cafeteria manager to determine how much of his produce will be needed based on the recipe and portion size.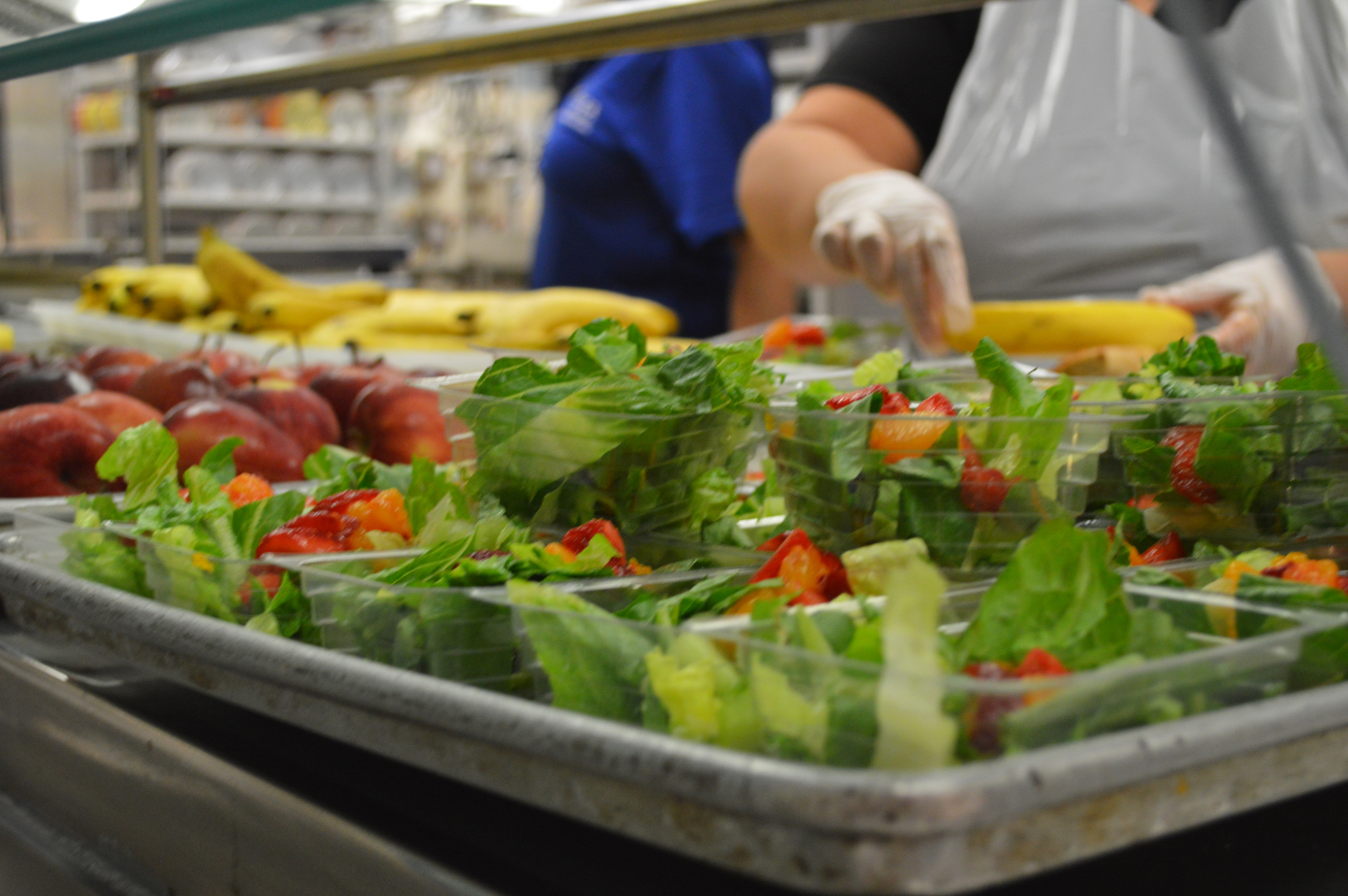 Planning out the meals can be a detail-heavy process, but incorporating the farm into school meals is paying off.
"We have software that helps with the nutrient analysis. When we entered kale that first time, I remember noticing that our vitamin A [levels] were at 108 or 110 percent. I remember saying, 'Something's not right here. That's not possible!' But it is, because kale has such rich nutrients," Huerta said.
The cafeteria is not the only place students are benefitting from the farms. The farms are also used as an education tool, exposing students to where their food comes from. Teachers incorporate visits to the farm into their lesson plans. Afterschool and summer programs give students a chance to get their hands dirty and help with tasks like pulling weeds and harvesting veggies. And it's making a difference, according to Tuley.
"One of my colleagues at headquarters has a son with special needs, and he's nonverbal, mainly. When he comes out here, he'll talk about the vegetables or the garden to her. Sometimes all you hear [and see as a farmer] are crops and numbers, so it's great to see that [the farm] makes an impact beyond just providing healthy food to kids," Tuley said.
A small group of elementary students at the IDEA school in Donna explained their work on the farm, and their excitement for the program was undeniable. One fourth-grader said, "I got to plant a little bit, and take out some weeds. It was actually kind of fun! I saw a huge weed, and I was like 'Hi-yah!' and took it out!" They described their favorite things they've eaten from the farm, like fresh fruit, sweet corn and cucumbers.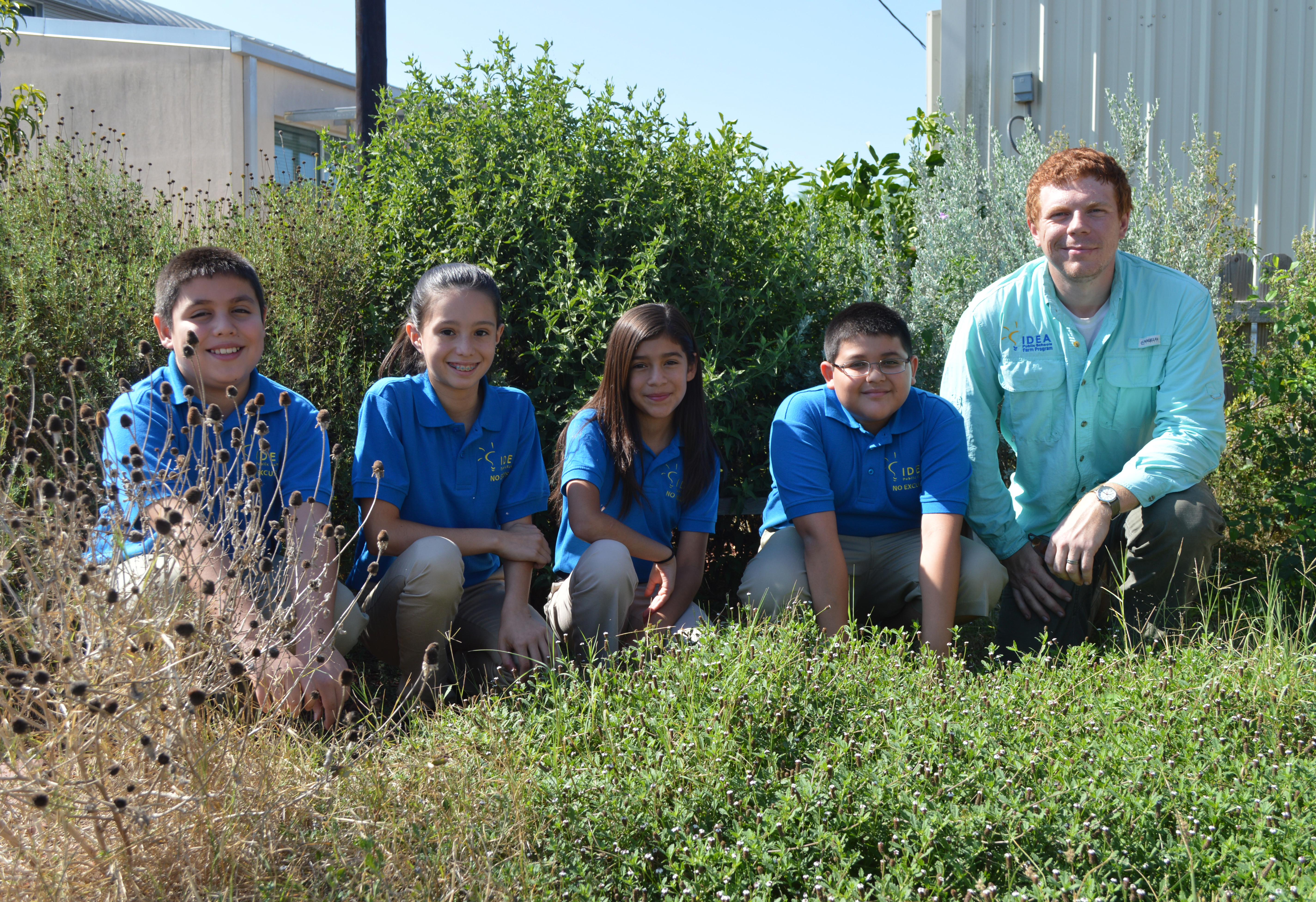 It's the small stories and the interactions with students that make the work so rewarding, Tuley related. "It's nice to have those stories to help you work through the heat."
Tuley hopes that the success the farm program has had at IDEA Public Schools could be replicated throughout the country.
"We live in one of the poorest and most obese areas in the nation, so if you can have something that works down here, it can be a model for a lot of other places," Tuley said.
Farm to School programs are such a win-win for school districts and the local community. The farms provide educational opportunities and fresh, healthy food for students. For children from low-income households, it may be the first opportunity they have to taste certain vegetables, which can be more expensive than the starches and processed foods that can more easily feed larger groups. Farm to School programs also spur the economy by supporting local farmers. Do you want to see a program like IDEA Public Schools in your community? Learn how here: http://www.fns.usda.gov/farmtoschool/census/#/toolkit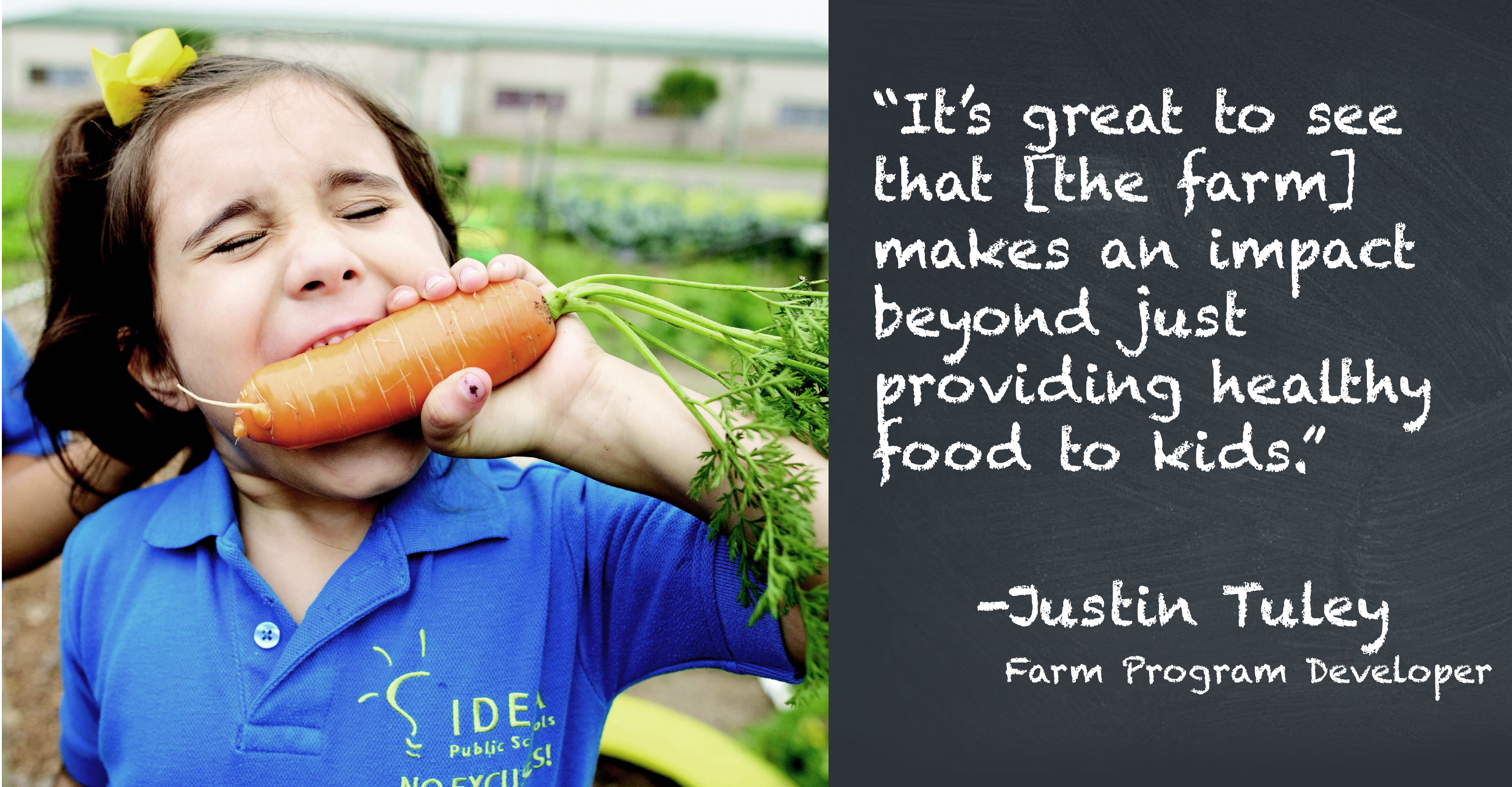 Post by: Ashley Yeaman, Social Media & Communications Specialist, Texas Hunger Initiative
Photos by: IDEA Public Schools and Charis Dietz, Communications Director, Texas Hunger Initiative