By: Matt Chelf, Baylor University Junior and Share our Strength: No Kid Hungry Youth Ambassador 
"Thank you so much," she said. "We would have no other means to get access to meals, but you've come this far and brought it to us. We can't thank you enough."
Many families across Texas, like the McAllen mother quoted above, are grateful this summer, because their children have access to food, which can be a hot commodity in even hotter months.
---
The Need: Keeping Kids Fed During the Summer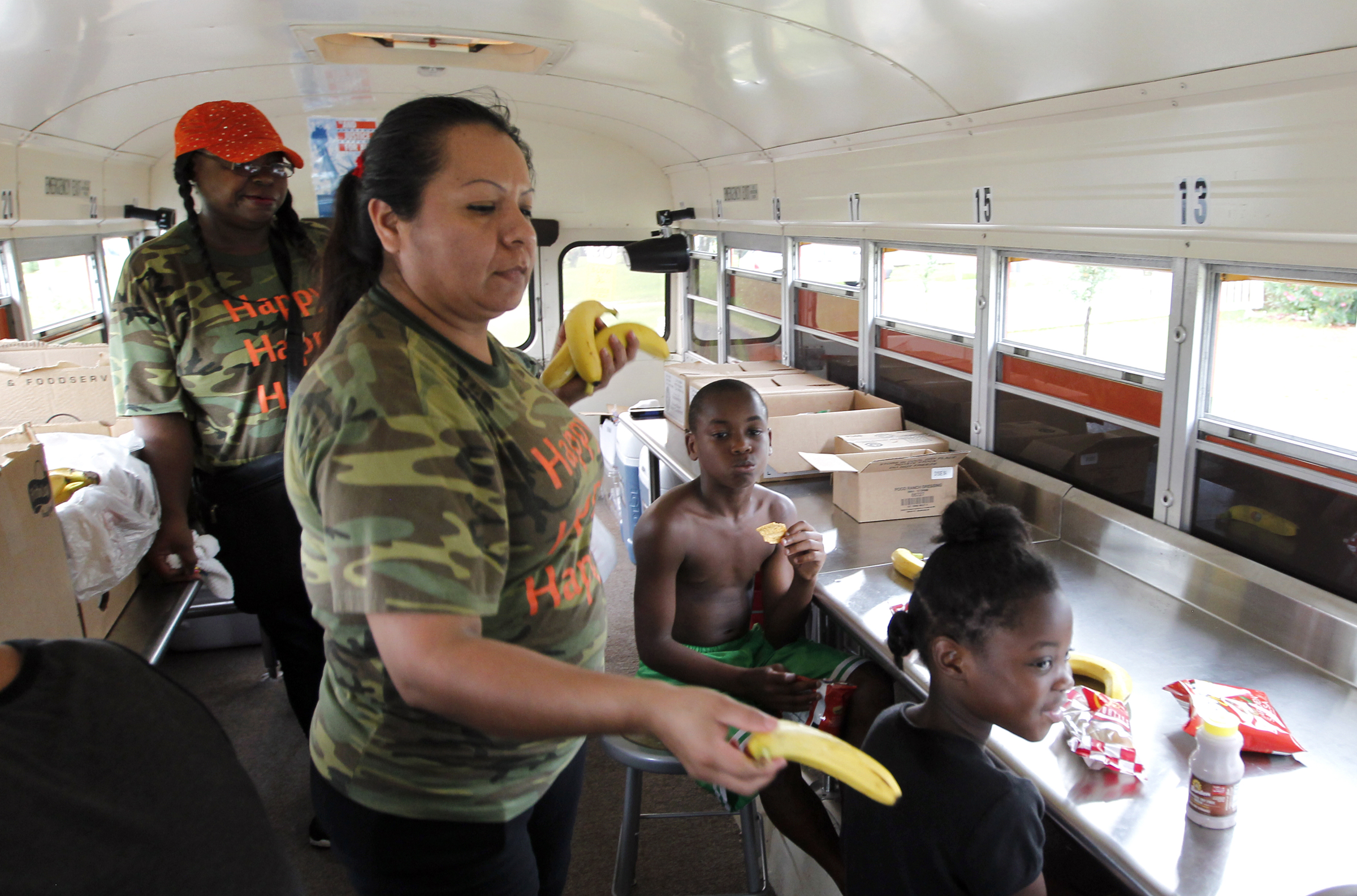 During the school year, over 2.3 million Texas children participate in free and reduced-price lunch programs every day. With the help of these programs, families can rest assured that their kids are given a nutritious meal while at school. But what happens when the school year ends?
Summer should be a time of recreation and relaxation for kids. But for many, the closing of schools means the start of a new challenge: finding their next meal.
In response to this, many cities across the state have implemented summer feeding programs, which serve to provide the same quality meals to kids ages 0-18 during the summer that they could have received during the school year. While sites are popping up all over Texas, participation is still low. Across the state, the amount of kids that participate in summer feeding programs compared to the number that participate in free and reduced-price lunches during the school year is only 11.9 percent, for a variety of reasons. Luckily, some school districts are beginning to implement a program that is drastically improving the number of meals served and access to them: Mobile Meals.
Texas City, McAllen and Waco are three ISDs that have implemented a mobile meals program in order to serve more children every day.
"Our office has found that transportation and other access barriers like the safety of streets, the ability to cross independently or leave the house independently and go far away have been cited as some of the main reasons the traditional Summer Meals model isn't always a great fit for areas in Waco," said Kelsey Miller, child hunger outreach specialist of the Texas Hunger Initiative's Waco Regional Office.
Many meal sites are at schools, where the doors are already open for summer school. While these are accessible to some kids, the journey to and from the school can prove too long for many children to make safely on their own.
"There are going to be areas where in order to reach a school, the children would have to cross a major thoroughfare," said Jacob Martinez, transportation director for McAllen ISD. "We also understand that during the school year, [the children's] main mode of transportation to and from the school is the school bus."
With no school buses relaying kids to and from schools, kids whose parents work during the day can be stranded within their neighborhoods or apartment complexes. Some children's parents are in a position to bring them to a site, but the kids could still use some convincing.
"How many kids really want to go back to school in the summer unless they have to for summer school?" asked Alexandria Molina, director of McAllen ISD Food and Nutrition Services. "They'll say 'You're gonna force me to come to school, just for meals?'"
Summer Meals sites are doing great work and are highly beneficial for many children. But for those with transportation issues or for whom it would be unsafe to walk to a site, the program needed to be re-thought. The solution? If you can't bring the children to the meals, bring the meals to the children.
"Texas City is such a vast area, and the city has camps or daycares at certain locations," said Gene Roblyer, director of school nutrition for Texas City ISD. "But when we looked at the map, there were a lot of areas, like apartments, [where residents] couldn't walk to those locations. So we came up with the idea to try to go out to those areas and reach out to them."
---
The Success So Far: Summer Mobile Meals Programs Accelerate Quickly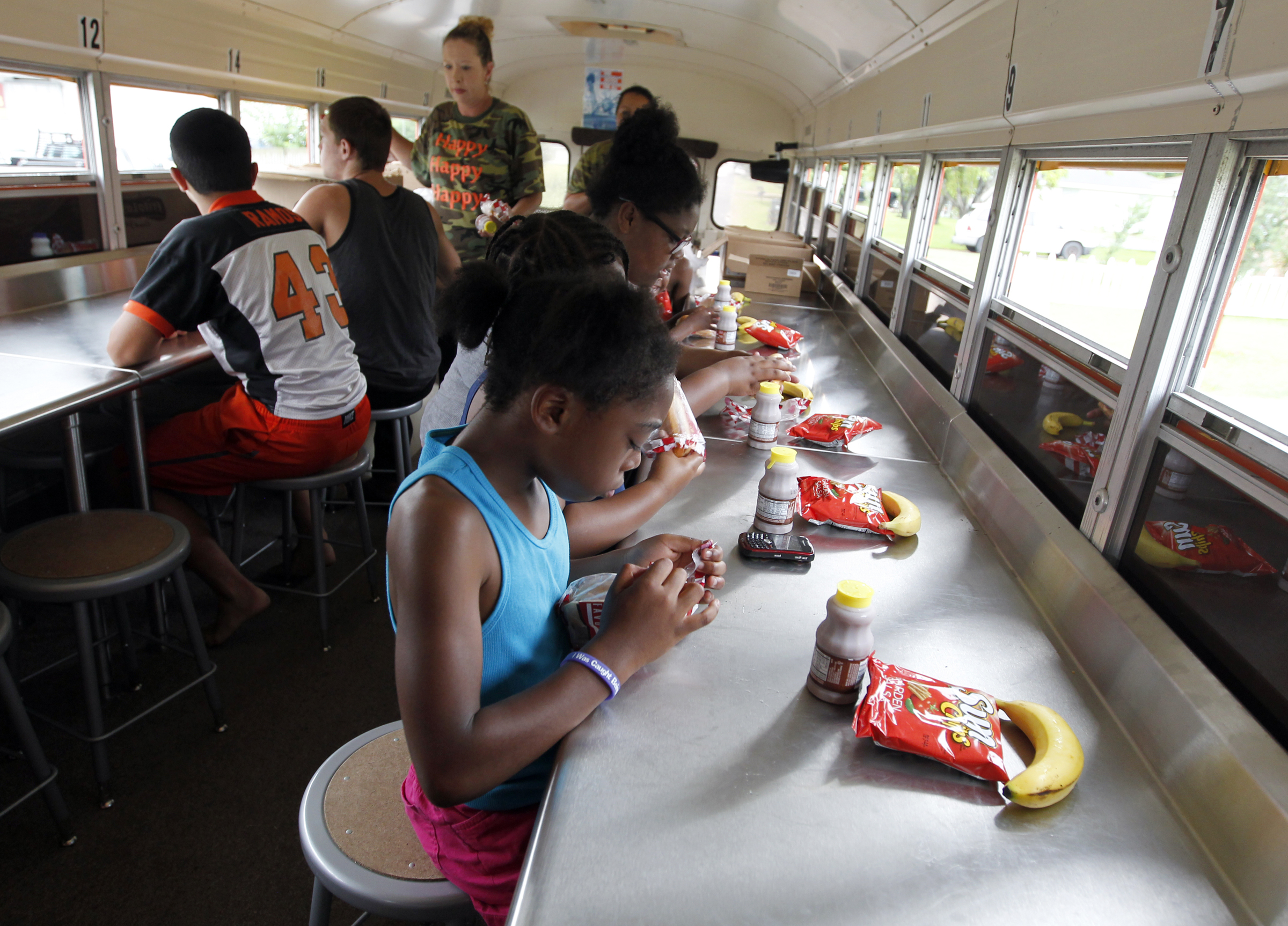 Texas City, McAllen and Waco use similar models.  A school bus, which can either be retrofitted with supplies to become an exclusive Mobile Meals provider or simply borrowed from the district and staffed accordingly, travels between different areas where it would be unreasonable or unsafe for children to go to a stationary site.
The school districts collect data and find areas where there are high concentrations of kids with difficulties reaching other sites. Then, through a small amount of trial and error, stops are chosen and routes are created.
"One of the things that we've focused on is consistency," Martinez said. "We wanted to make sure that throughout the summer we weren't constantly changing times or changing locations. It took a little time to build that consistency with the kids so that they could trust that these buses would be there, but we've seen the numbers just steadily rise as the summer has gone by."
The implementation of mobile meals has seen the number of meals served this summer go up across the board.
Texas City has doubled its numbers from last year, and the addition of mobile meals brought it close to completing its goal of serving 20,000 breakfasts and 35,000 lunches for the summer in only one month.
"Last June we served 13,292 students and this June we served 26,013. That's for lunch," Roblyer said. "For breakfast, last June we served 10,024 and this year we served 18,549."
"Meals on the Bus,"  the Waco program which launched this June, served 300 children per route in its first week.
The success of the programs has come in unique ways to each city but has been surprising to all of them.
McAllen, which had a small budget to start this program, does not use the retrofitted bus system. A standard-issue, yellow school bus with an occupancy of 50 passengers arrives to serve the children, who eat in the bus seats. The program, which started for the first time on June 3, already has a system for when there are more children at the site than the bus can hold at one time.
"The bus rules say that the parents don't enter the bus," Molina said. "Just the kids get on the bus, the adults wait outside. It's a safe place for kids to eat."
The adults may not be waiting alone, though.
"Think of it like the occupancy of a restaurant," Martinez said. "Kids are waiting outside, and once the others finish, they'll get off the bus and the next round of kids will cycle in. We'll keep cycling until all the children and meals are served."
For a program with six routes serving 14 locations, reaching capacity on a 50-passenger bus is impressive. The lines aren't bad for business, either.
"Seeing the parents congregated out there around the bus draws more attention and helps communicate that this is a bus that is serving meals," Martinez said. "It really helps to create awareness."
In Texas City, the surprise came not only in turnout, but in timing.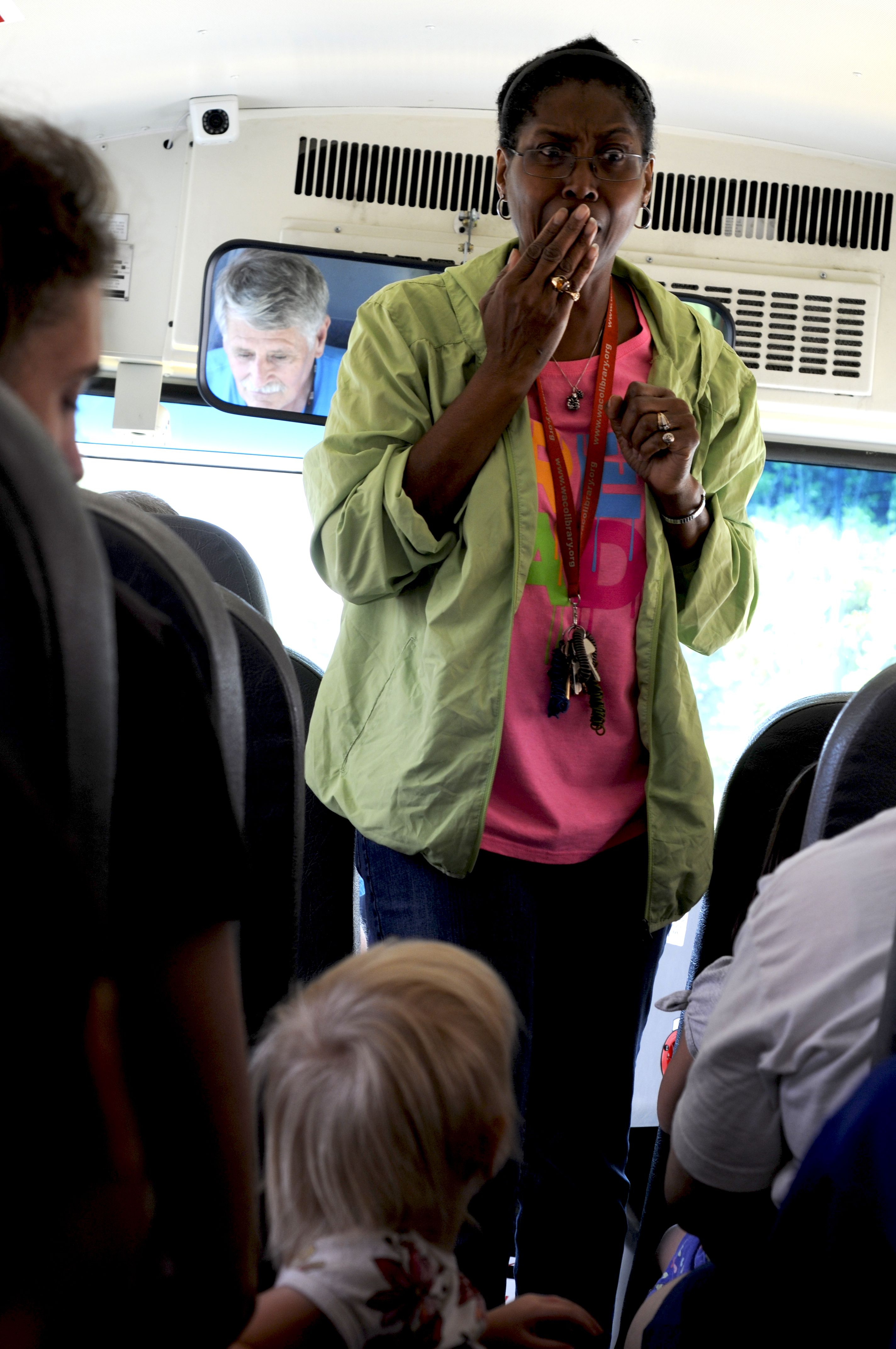 "The thing we're happiest with is that the community has bought into it and are having the kids get up and come out to eat breakfast," Roblyer said.
Texas City ISD originally planned not to serve breakfasts but, after experimenting for a week, found that they couldn't stop. "The kids would meet us at lunch and say 'See you tomorrow morning for breakfast,'" Roblyer said. "If they'll get up, then we need to be there."
The immediate success of the program has brought smiles to the faces of both sponsors and participants in the program.
Speaking about entertainment programs that the Waco buses have instated, Miller said, "the reaction has been overwhelmingly positive. We've heard kids and families say 'Oh, wow, this is really different.'"
Looking back, Martinez asks, "How could we not have done this? We know going forward that this is something we're going to continue to do."
---
The Future: Lasting Effects of a Nutrition-Filled Summer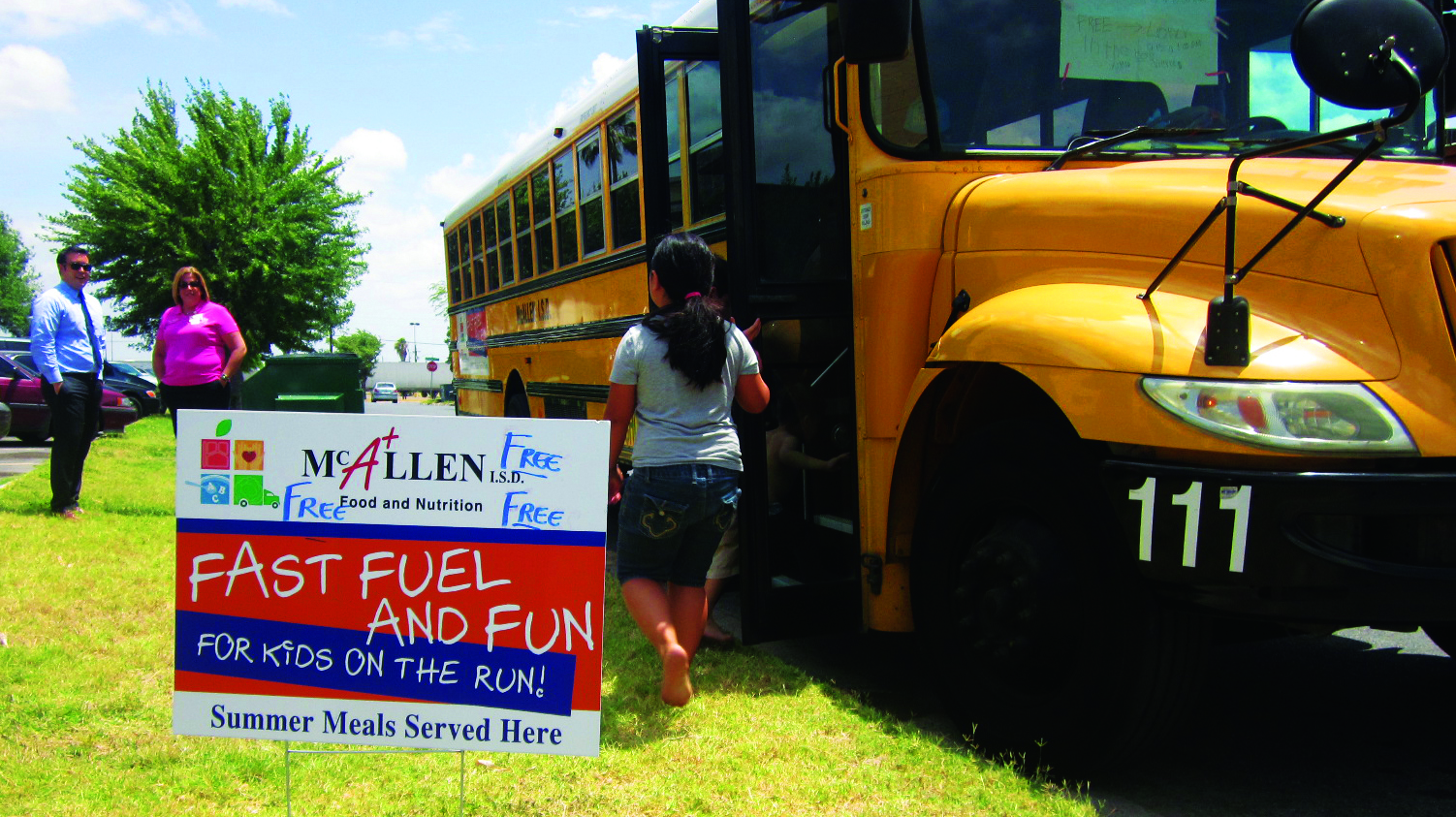 When school starts again in August, Molina hopes that the school districts will realize the impact that summer programs have had.
"It helps our district," Molina said. "[The kids] are going to be learning and playing and staying healthy, because they're eating. They'll be so much healthier when they come back in August."
Molina shares that sentiment with Melissa Tortorici, who works alongside Roblyer as Texas City ISD's director of communications.
"Our attitude is not that [the kids] aren't our responsibility right now," Tortorici said. "We think that it's our responsibility to have happy, healthy kids. They will come to school better prepared and ready to learn in August if they're eating nutritious food during the summer."
Perhaps the thing that the districts involved in mobile meals so far are most excited about is the ability for this program to spread.
McAllen ISD, which strayed from the retrofitted bus model, wants to encourage other districts with a smaller budget to follow their lead.
"We're excited that other districts are reaching out and asking how they can do it," Molina said.
"I encourage those districts to follow suit," Martinez said. "Find a way and make it happen, because there's simply no downside to this."
To learn more about this summer meals model and how your district can implement it, contact Gene Roblyer (Texas City), Alexandra Molina (McAllen) or Kelsey Miller (Waco).