Something interesting took place in Texas this past 83rd Legislative Session. Freshmen lawmakers started a tradition known as "Purple Thursdays," wearing purple ties as a symbol of bipartisanship. Color choice for a necktie might seem like an insignificant subtlety, but the message was incredibly powerful. The ties were a symbol and reminder of their determination to work together — something that Washington has failed to accomplish. It didn't take long before it wasn't just the freshmen donning purple, and others were joining in.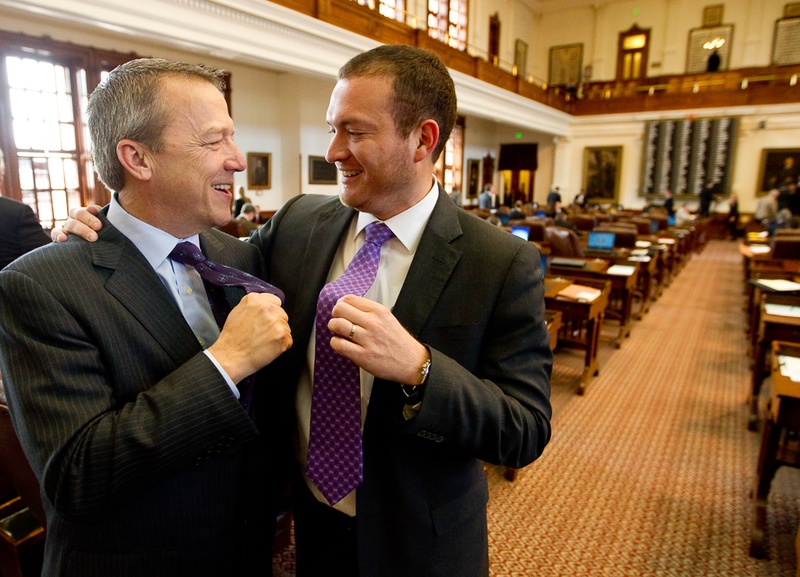 I saw firsthand the goal of purple ties come to fruition when the governor signed Senate Bill 376. According to the Food Research Action Center (FRAC), one in four households with children are considered food insecure in the nation. This holds true in Texas, which has one of the highest child poverty rates (27.4%) in the country. Food insecurity is the term used to describe a situation where one or more individuals in a household do not know when or where their next meal will come from at one or more points during the year.
Senate Bill 376 would ensure that schools with 80 percent or more students eligible for a free or reduced-price meal must offer free breakfast to all students. Since the School Breakfast Program is federally funded, it won't cost school districts or the state any additional money. The children from families with incomes at or below 130 percent of the federal poverty level are eligible for free meals, and those from families with incomes between 130 percent and 185 percent of the poverty level[1] are charged no more than 30 cents per meal. Simply put, this means that hungry children in Texas have access to the fuel they need to start a successful school day.
When we let children go hungry in the morning, we aren't empowering them to reach their full potential. Evidence suggests that children without breakfast show a lack of participation in school, behavioral problems and decreased academic performance. Eating a healthy breakfast can lead to a more nutritionally complete diet, higher in nutrients, vitamins and minerals. Additionally it can improve concentration and performance in the classroom. Individuals that regularly eat breakfast have more strength and endurance to engage in physical activity and lower cholesterol levels.
This summer I traveled down to Austin to see firsthand how the political process in Texas works. Jeremy Everett, director of the Texas Hunger Initiative, and Anne Olson, formerly a public policy specialist at the Christian Life Commission, testified in favor of S.B. 376. Committee members from both parties listened intently as Jeremy and Anne presented their testimonies and proposed that the bill wasn't about partisanship, but about hungry children in our communities. It was stories like those of a fourth grade student who took extra food from the cafeteria home so his brothers would have something to eat over the weekend that moved members of the committee. Although statistics and numbers are essential for effective public policy, sometimes it takes the true story of a hungry child to put things in perspective.
I began to realize that our presence at the hearing made all the difference; we were a part of the conversation. Jason Sabo a non-profit lobbyist in Texas, is quoted with saying, "If you're not at the table, you're on the menu." And he's right. By not showing up to support the ideas you believe in, you've given a reason to be ignored.
Think about the purple ties and the breakfast bill the next time you are feeling cynical about government, especially during the current shutdown. Skepticism is warranted, but there is no place for cynicism in bettering our state and country. With our world getting smaller and inequality at an all time high, we can no longer turn a blind eye to these issues. We need to keep thinking outside the box; the act could be as simple as wearing a purple tie.
The Texas Hunger Initiative is a nonpartisan organization housed within Baylor University's School of Social Work. Our model for ending hunger in the state is research oriented and requires a level of creative cooperation and collaboration that transcends partisanship. Raising healthy children whose basic needs are met and laying a foundation on which they can build successful lives is society's most important responsibility.
—
The Texas Hunger Initiative has launched a social media campaign to boost awareness regarding the importance of reducing the stigma around free and reduce priced meals in schools, particularly breakfast. By snapping a picture of your breakfast and tagging @Texas_Hunger using the hashtag #tweatyourbreakfast on Facebook or Twitter you can contribute to this effort. For more information, visit our blog.
Written by: Tariq Thowfeek, Public Affairs & Communications Specialist, Texas Hunger Initiative
Photo courtesy of: The Texas Tribune
---
[1] The 2013 poverty level, set by the U.S Department of Health and Human Services is $23,550 for a four-person household.