Academic blogs can be used by professors in many different ways depending on their subject matter, lessons, and pedagogical goals. To guide you in the decision of what approach will be best for you to achieve your pedagogical goals we have created the series 3 ways to Edublog. In this series we will feature 3 distinct pedagogical and technical ways to use your blogs as educational tools in your classroom. 
Web Syndication
Web syndication is when a professor gathers the website/blog material from the students into a classroom blog. The way this syndication is done is with the activation of a plugin called FeedWordPress. According to the plugin description:
"FeedWordPress is an Atom/RSS aggregator for WordPress. It syndicates content from feeds that you choose into your WordPress weblog; the content it syndicates appears as a series of special posts in your WordPress posts database. If you syndicate several feeds then you can use WordPress's posts database and templating engine as the back-end of an aggregation ("planet") website."
Whenever a student creates a wordpress blog, a RSS feed address is assigned to that site. By activating the FeedWordPress plugin and configuring it to fetch the posts from the students' site with their RSS feed address you can bring all of their posts, or select posts with a particular tag or category to a class website.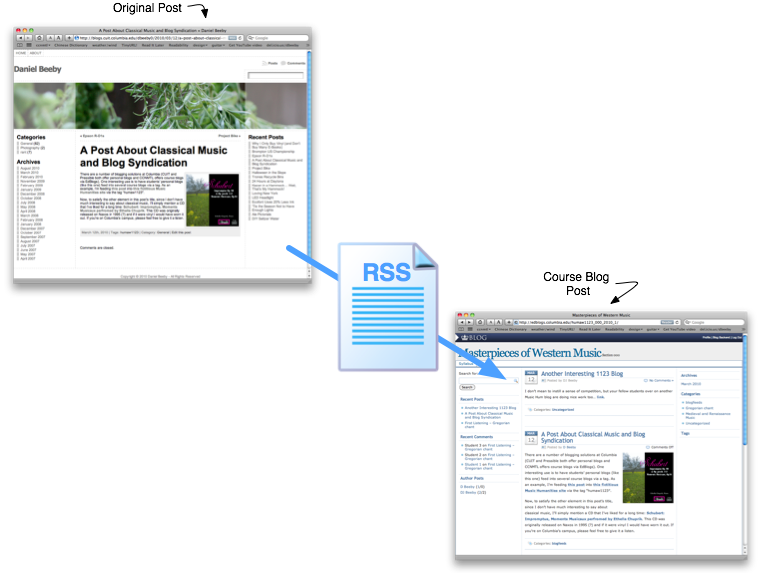 Pros and Cons
There are particular benefits for using this approach.  If some of your students already have wordpress blogs as public platforms or as professional portfolios and if you would like for them to be able to continue owning, managing, and customizing their own blogging environments this is the best approach. Also, this approach may encourage them to blog and reflect about other issues that are not directly related to your class that could be helpful in their development as a student and creative thinker.
Blogs offer students and faculty great opportunities for interaction with each other. Commenting on each other's blog posts is a great tool for reflection and understanding of peoples views on particular issues and classroom content. WordPress blogs allow for customization of blogs with the use of widgets and some of the widgets show recent comments. This capability is very helpful to aggregate and show blog comments from an edublog classroom has many students. With FeedWordPress, so far, this is not possible. Comments only show on the original posts, in the original hosted blog.
For instructions on how to setup FeedWordPress click HERE. If a student blog feed doesn't syndicate you should read THIS. If you want to know more about blogs click HERE.