Anybody who read Gardner's latest post and listened to his E-Learn 2010 podcast (you can play it inline at the end of selfsame post, and I encourage you to do so) knows that I'm having some fun here. The above image is the insignia of The Borg, a race of tyrannical cyborgs that terrorizes all the good guys on Star Trek: The Next Generation. If you don't know them by their insignia–OK, maybe you're NOT an ubernerd–then surely you've seen a Borg or two on the Internet somewhere: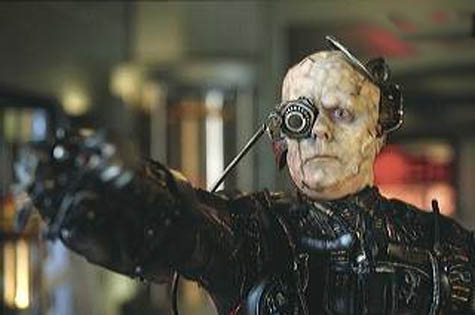 In his podcast, Gardner discusses the ongoing "Internet Backlash" and some of the folks associated with it, one of whom is Jaron Lanier, author of "You Are Not a Gadget." At issue in the podcast is, among other things, whether Lanier's critique of Wikipedia as an expression of the hive mind holds any water. For the record, Lanier is not some garden-variety luddite or even a technophobe. He is, in fact, a computer scientist and a very good writer, to boot. To learn more about his thoughts on the "foolish collectivism" of Wikipedia, have a look at Digital Moaism: The Hazards of the New Online Collectivism. (Between this and Gardner's podcast, you've got an excellent point-counterpoint debate about the concept of the read/write web.)
The spirit of Lanier's own backlash against Wikipedia is fairly well captured by the very last passage in the essay, which contains the following warning:
The illusion that what we already have is close to good enough, or that it is alive and will fix itself, is the most dangerous illusion of all. By avoiding that nonsense, it ought to be possible to find a humanistic and practical way to maximize value of the collective on the Web without turning ourselves into idiots. The best guiding principle is to always cherish individuals first.
The last sentence there is the key to understanding where Lanier is coming from:
The best guiding principle is to always cherish individuals first.
The tension and often competing interests of the individual versus the collective: That I get. But where I think Gardner gets it right is in pointing out that Lanier's take on things represents a certain myopia, a "failure of imagination," as he says, or the inability to see the big picture. Take the concept of "The Collective." What is "The Collective" anyway? Is it as Lanier would have it (the hive mind) or as Gardner would have it (the artisans of Paris)? The truth is that's it's probably both–depending on the context.
That's just it: Context. Â In my view, context counts for much more in this disagreement, perhaps, because never before in history has the idea of "The Collective" existed in such a unique context: The context of many individuals, each at her or his own computer terminal, who just happen to be participating in something collective. In other words, there's surely more than one flavor of "collectivism," and the kind we're talking about here–millions of people editing a shared web space, usually anonymously, and in private–is something very new. As such, I don't think the same rules apply when Lanier writes:
… the larger pattern of the appeal of a new online collectivism that is nothing less than a resurgence of the idea that the collective is all-wise, that it is desirable to have influence concentrated in a bottleneck that can channel the collective with the most verity and force. This is different from representative democracy, or meritocracy. This idea has had dreadful consequences when thrust upon us from the extreme Right or the extreme Left in various historical periods. The fact that it's now being re-introduced today by prominent technologists and futurists, people who in many cases I know and like, doesn't make it any less dangerous.
History is rife with examples of foolish collectivism gone bad, to be sure; and to be fair, it's worth mentioning that Lanier cites several examples of ways in which collectivism succeeds in making us smarter. But I think we're at apples and oranges at this point, so I return to Star Trek for an analogy…
For argument's sake, let's assume that The Borgs are subject to the usual personality dynamics that usually manifest themselves when humans (and humanoids) gather in concert to decide something important. The committee: That paragon of the dumb-down where nothing of import really happens. So, let's say The Borgs are deciding on their next attack strategy in a committee meeting. What happens? The shyest and most quiet Borgs, whose opinions matter presumably not less than the more boisterous Borgs, hold back in usual fashion; and the more bellicose Borgs–some of whom are not particularly trenchant in the ways of attack strategies, let's say–dominate the conversation, keeping the shy Borgs from having Borg-ese words edgewise. Arguably, this is a recipe for the Borgs getting their butts handed to them by Jean-Luc Picard (and I think Lanier would agree with me here).
While this scenario is a stereotype of the same kind of collectivism that Lanier is imposing on the digital world where, inevitably, the dumbest opinions hold sway, it does illustrate how context is important. In certain contexts–and I speak from my own experience–some people are empowered to be more insightful, more thoughtful, and in general, more interesting and creative when they don't feel threatened by outside influence or conventional social dynamics. For example, when they're at their own desks at home or in the office by themselves and have time to think and aren't worried about folks looking askance at them for voicing strange opinions. This is what digital collectivism affords us: some might call it simply "anonymity," but if thought of more imaginitively–as Gardner is encouraging us to do–we might also see it as a kind of unfettering of the collective influence. Dare I say, it allows us to have the courage to become more individual?
As for me, I'm a shy Borg and prefer to be left to my own devices behind the protective shield of a keyboard. You might find my writing interesting; but truthfully, if you asked me to speak up in a crowd about something I'm even knowledgeable about, the results will probably be dreadful, but not because what I have to say is less valid than someone who's more eloquent. Thank goodness for a medium where even the most reticent of us can get our 2-cents in (comfortably). It begs questions: Can this digital collectivism be a bad thing for democracy and the advancement of knowledge? Is it harmful or beneficial to education?
At the same time that Lanier simplifies the notion of what "collectivism" is, so too does he over-simplify the meaning of Wikipedia. No thoughtful and responsible individual, even among futurists and techno-utopians, is going to proclaim Wikipedia as the de facto one-stop shop for knowledge. If thought of more imaginitively, though, one could view Wikipedia as a glorified card catalog or index where one just happens to end up first along the road to higher knowledge. Personally speaking, I use it as a map: Sure, it's usually the first result on the SERP for any given topic you search for in Google, but so what? That means I have to believe that it's an authoritative source? Of course not. But it's not a bad place to start for further reading.
And at the end of the day, even when I take issue with something I read on Wikipedia, I have the freedom to change it. Somehow, that freedom seems more appealing to the individual in me than the Borg.